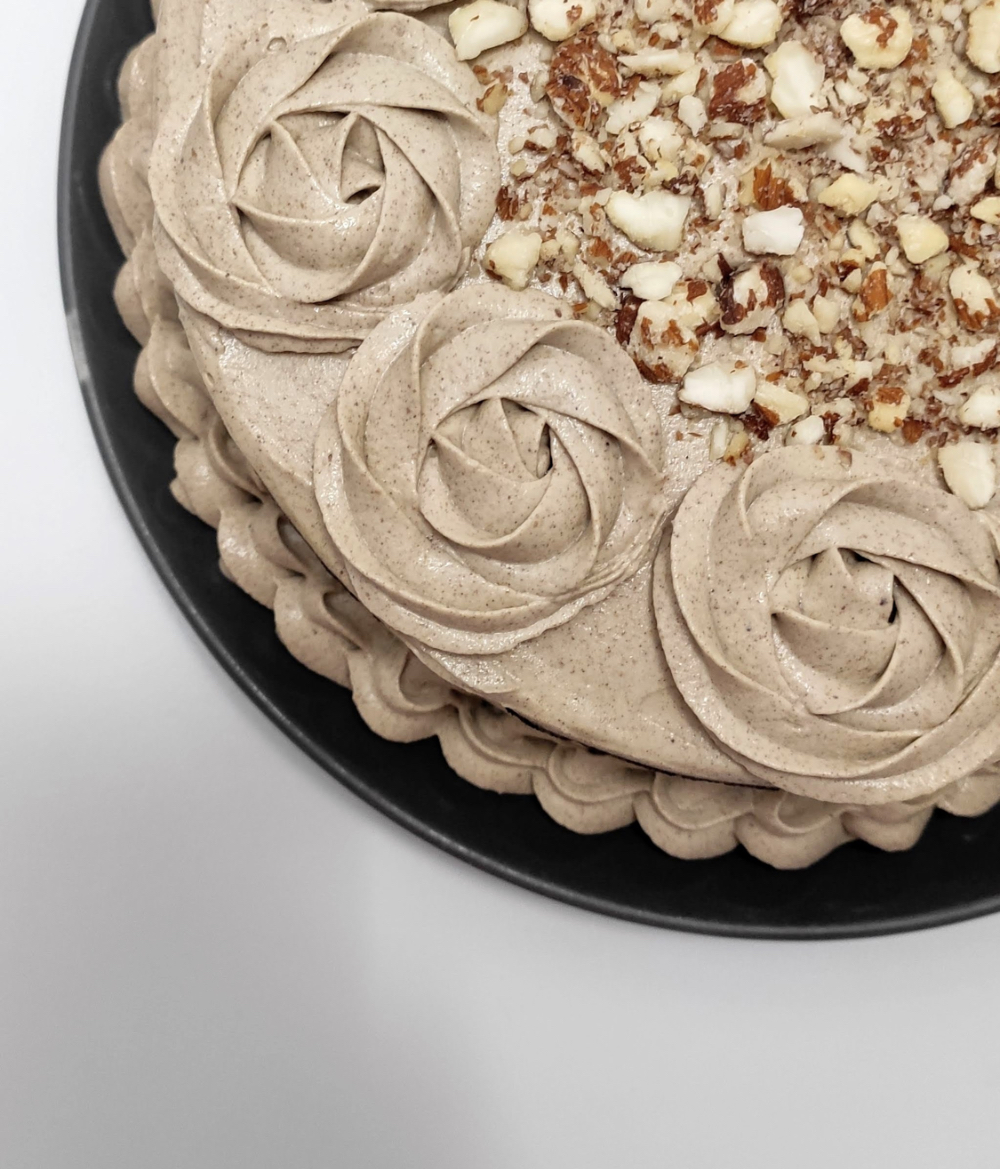 A cake so healthy it could be sensibly eaten for breakfast (in moderation), or as a snack! It is super rich in fibre, protein and healthy fats. It is calorie-dense, so it should be eaten in moderation, but I find so filling that it is difficult to over-eat. The texture is on the denser side and I find it more similar to that of a muffin, but with no flour or sugar, I think it would be difficult to make it lighter. I will still keep trying! The icing is smooth and thick enough to be piped if desired, but it will not harden like buttercream. Making this cake is a bit of a time commitment, as some of the ingredients must be soaked overnight and the cake and icing need quite some time to cool. I usually like to bake the cake and prepare the icing on day 1, then ice the cake on day 2 and serve on day 3.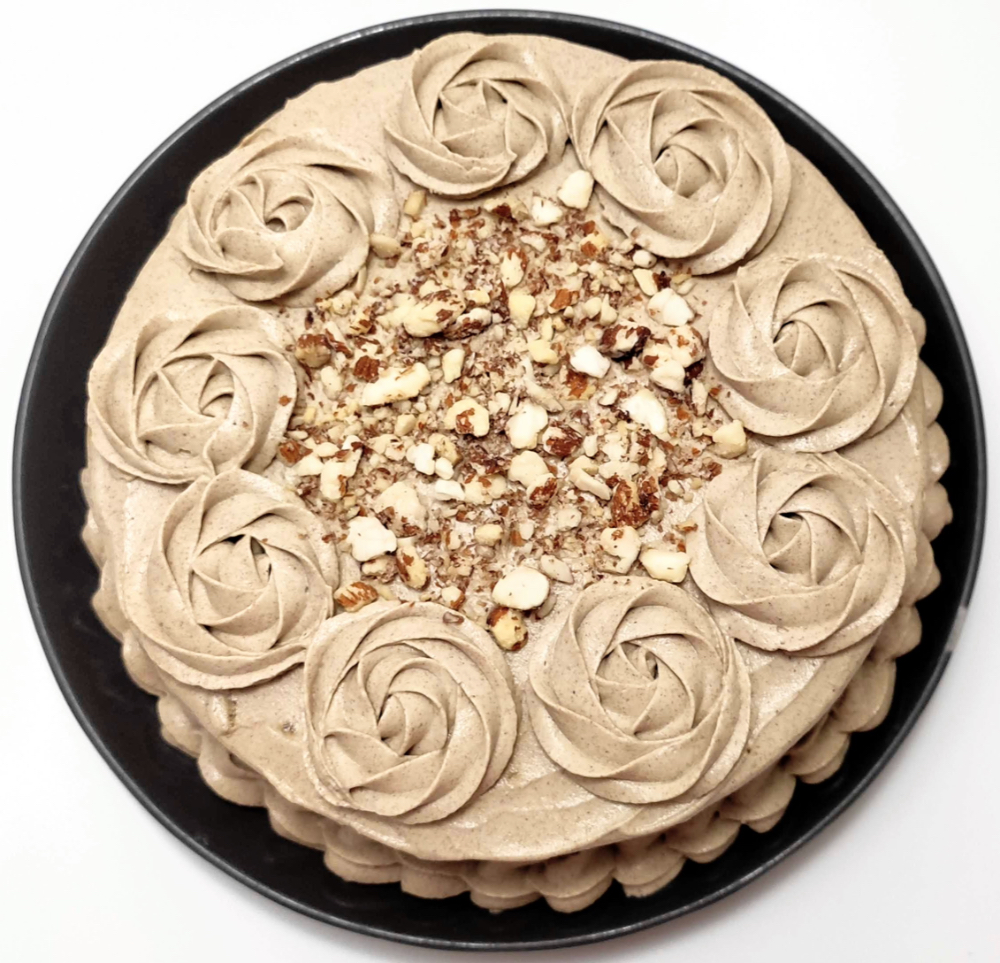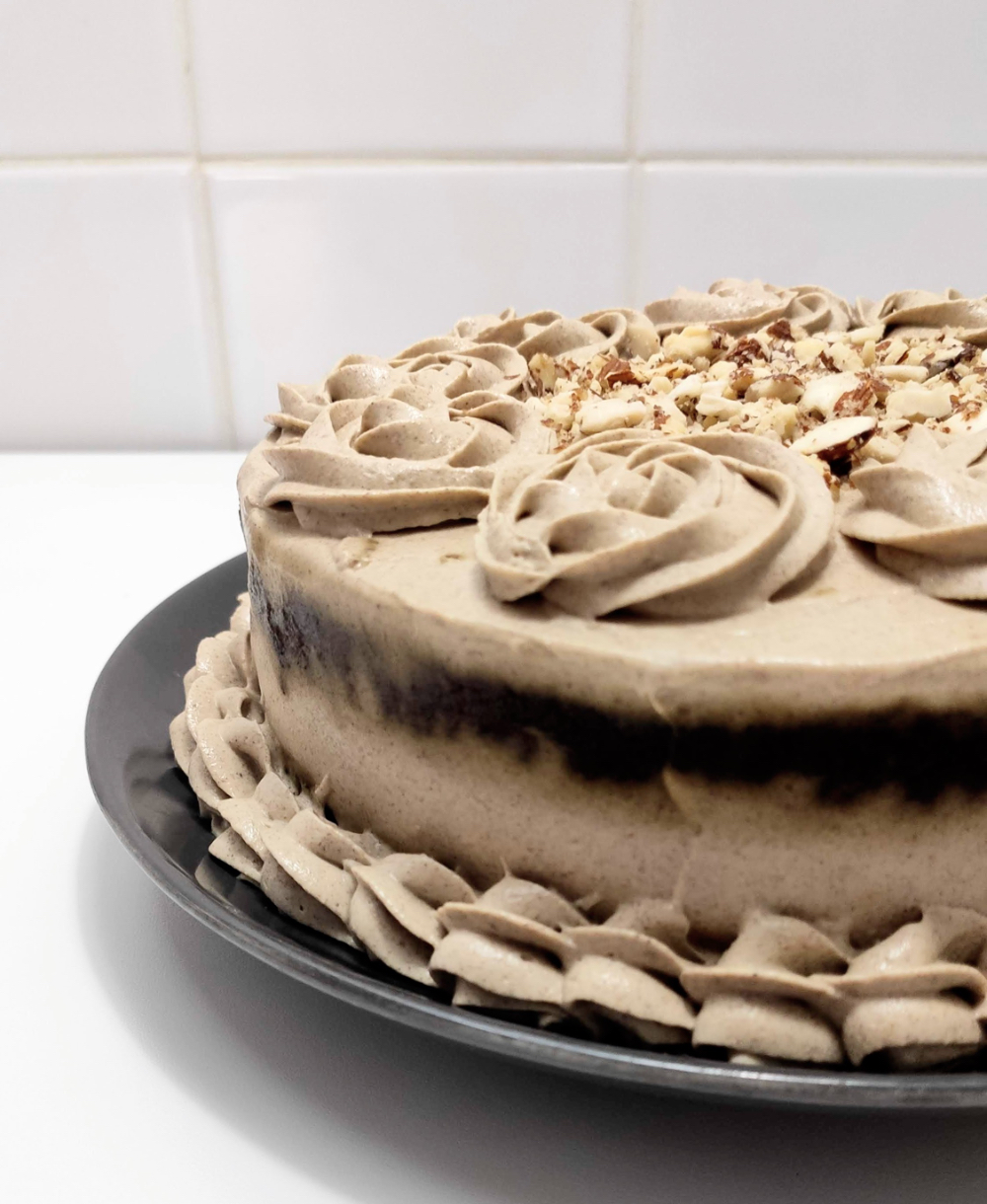 Ingredients
Cake
3 tbsp ground flax seeds
1/2 cup + 9 tbsp water, divided
1 tbsp lemon juice
1 cup unsweetened non-dairy milk
1 1/2 cups teff flour (you can buy teff flour or make it from teff seeds in a high-speed blender)
1 1/2 cups ground almonds
2 tsp baking powder
3 tsp baking soda
3/4 tsp salt
1 tsp espresso powder (optional)
1 tsp ground cinnamon
1/2 tsp ground allspice
1/2 tsp ground ginger
1/4 tsp ground cloves
2 cups pitted dates
1/2 cup canola oil (or another healthy vegetable oil like avocado oil)
2 ripe bananas
3 tsp vanilla extract
30 drops liquid stevia extract (or adjust to desired sweetness)
1/2 cup raisins or chopped nuts of choice (optional)
Icing
2 cups cashew pieces (soaked overnight in water, in the refrigerator)
30 pitted dates (soaked overnight in water, in the refrigerator)
1 tbsp cold water
1 tsp agar agar, also called agar powder (can be substituted with gelatin if that is what you have on hands, but it should be noted that contrary to agar agar, gelatin is not vegetarian)
1/4 cup non-dairy milk
2 tsp vanilla extract
2 tbsp lemon juice
1/2 tsp ground cinnamon
1/4 tsp ground allspice
1/4 tsp ground ginger
1/8 tsp ground cloves
1/2 tsp salt
20 drops liquid stevia extract (or adjust to taste)
Directions
Don't forget to soak your dates and cashews overnight (see the Icing section of the ingredients) !
Prepare the flax eggs by combining ground flax seeds and 9 tbsp water. Set aside for 10 minutes.
In the meantime, mix lemon juice and non-dairy milk and set aside as well.
Preheat oven to 360°F
Combine teff flour, ground almonds, baking powder, baking soda, salt, espresso powder and all spices in a large mixing bowl. Set aside.
Combine dates and water in a microwavable bowl and microwave for 2 min.
Transfer the dates and water to a high-speed blender. Add the oil, banana, vanilla and stevia extract and blend until smooth. Mix into the dry ingredients in the mixing bowl. Do not over-mix.
Fold in the raisins or chopped nuts of choice.
Line two 8-inch cake pans with parchment paper. Divide the cake batter equally between the two pans. Flatten the surface with a spatula.
Bake for 35 minutes or until toothpick inserted into the middle of the cake comes out clean.
Remove the cakes from the pans and let them cool for 15 minutes, then refrigerate to cool completely. In the meantime, prepare the icing (in the next steps).
Mix water and agar agar in a small microwavable bowl, set aside for 5 min.
Drain the dates and cashews and transfer to a high-speed blender.
Microwave the agar mixture on medium power for 10 seconds to dissolve it. Transfer to the blender.
Add all remaining ingredients to the blender and blend at high speed until smooth. Use a tamper to help push the ingredients downwards and scrape the sides. The icing will most likely warm up by the time a smooth consistency is reached, but that is ok as it will be cooled before icing the cake.
Refrigerate the icing for at least 2 hours (up to overnight).
Ice the cake and refrigerate until serving (can be refrigerated up to a few days before serving). The icing can be piped or simply spread onto the cake with a spatula.
Serve, then refrigerate the leftovers.
I find it best to refrigerate overnight after icing before serving.
Enjoy!