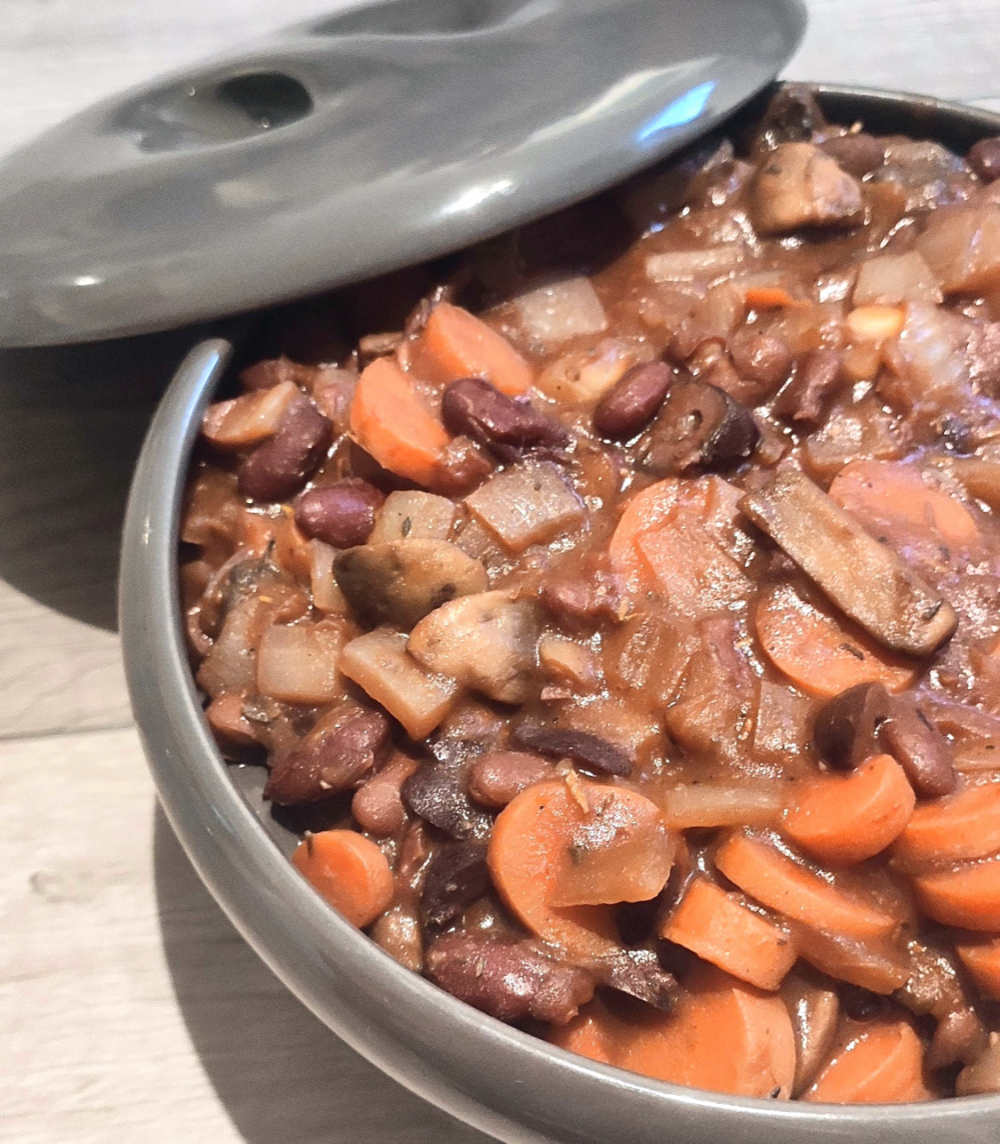 A hearty and flavourful bean and mushroom bourguignon that will warm you up and keep you full for hours. Wonderful over brown rice, brown rice pasta, cauliflower mash, or any other starch or alternative.
Ingredients
3 medium carrots (or 2 large carrots), sliced thinly
3 tbsp canola oil, divided
1 large yellow onion, chopped
About 300-450g mushrooms, sliced into large chunks
3 cloves garlic, minced
1 tsp dried rosemary
1 tsp dried thyme
2 cups red wine
1 cup crushed tomatoes
1 cup water
1 bay leaf
1 tbsp miso paste (or 1 tbsp gluten-free soy sauce with no added sugar, or 3 tbsp coconut aminos)
2 cups (540mL) red kidney beans, cooked (or canned, rinced and drained)
10 kalamata olives, sliced
1 tsp salt (start with 1/2 tsp, taste and adjust to taste)
Ground black pepper, to taste
1 tbsp arrowroot flour
2 tbsp water
Directions
Cook the carrots in the microwave in a microwave-safe bowl, covered, until cooked through.
In a large frying pan, heat up 1 tbsp of the oil on medium heat. Add the onion and cook until soft, translucent and slightly caramelized. Remove from the pan and set aside.
Heat the remaining 2 tbsp of oil in the frying pan. Add the mushroom and cook until slightly golden. Add the garlic, rosemary and thyme and cook for another couple of minutes.
Transfer the carrots, onions and mushrooms to a large saucepan. Add all remaining ingredients EXCEPT the arrowroot flour and 2 tbsp water. Simmer for 25 minutes.
Mix the arrowroot flour and water in a small bowl. Transfer to the saucepan and mix in well. Simmer briefly and remove from the heat.
Remove the bay leaf.
Let the sauce thicken for about 5 minutes, stirring occasionally.
Serve warm over your desired starch.
Enjoy!