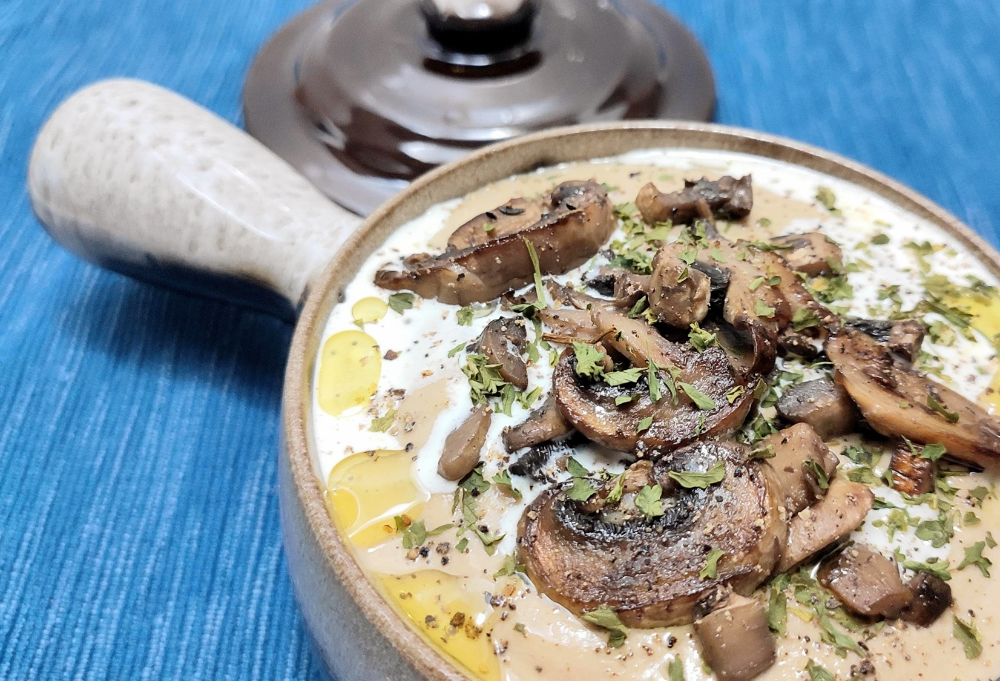 This soup is rich, creamy and rich in protein, with some hidden carrots and leaks providing extra vitamins, prebiotics and flavour! It is a good source of vitamin B12 as well, from the nutritional yeast. A nod to my Creamy Mushroom & Spinach Brown Rice Pasta recipe.
Ingredients
1 large carrot, sliced into large chunks
1 pitted date
1 tbsp water
1 tbsp canola oil, divided
1 small leak or 1/2 medium-large leak, sliced
1/4 cup white wine
1 package mushrooms (about 250g), sliced or chopped
2 cloves garlic, minced
1 tsp dried thyme
1 tsp dried parsley + more for garnish
Ground black pepper, to taste
1/2 package silken tofu (250g), drained
1 1/2 cups unsweetened soy milk
1/2 tbsp nutritional yeast
1/2 tbsp miso paste (or substitute with the same amount of gluten-free soy sauce with no added sugar, or 1 1/2 tbsp coconut aminos)
1/4 - 1/2 tsp salt, to taste
Vegan cream (optional, for garnish)
Olive oil (optional, for garnish)
Directions
Cook the carrots in the microwave with a splash of water until cooked through, about 5 minutes. Transfer to a high-speed blender for later.
Cook the dates and water in the microwave for 30 seconds. Add to the blender.
Cook the leak in 1 tbsp of the canola oil over medium heat in a large frying pan, until soft. Add the white wine and simmer until the wine has mostly evaporated. Transfer the mixture to the blender.
Cook the mushrooms in the remaining tbsp of oil in the frying pan, until browned.
Add the garlic, thyme, parsley, ginger and ground black pepper and cook for 2 more minutes.
Reserve about two thirds of the mushrooms and add the rest of the mushroom mixture to the blender. Add the tofu, soy milk, nutritional yeast and miso paste. Blend until smooth. Add more soy milk if you prefer a thinner consistency.
Taste, add salt and adjust salt and pepper.
Heat up the soup in the microwave or in a saucepan on the stovetop. Add the reserved mushrooms, saving some for garnish if desired.
Serve into individual bowls and garnish with swirls of vegan cream and/or olive oil, if desired, along with the reserved sliced mushrooms, some dried parsley and ground black pepper.
Enjoy!