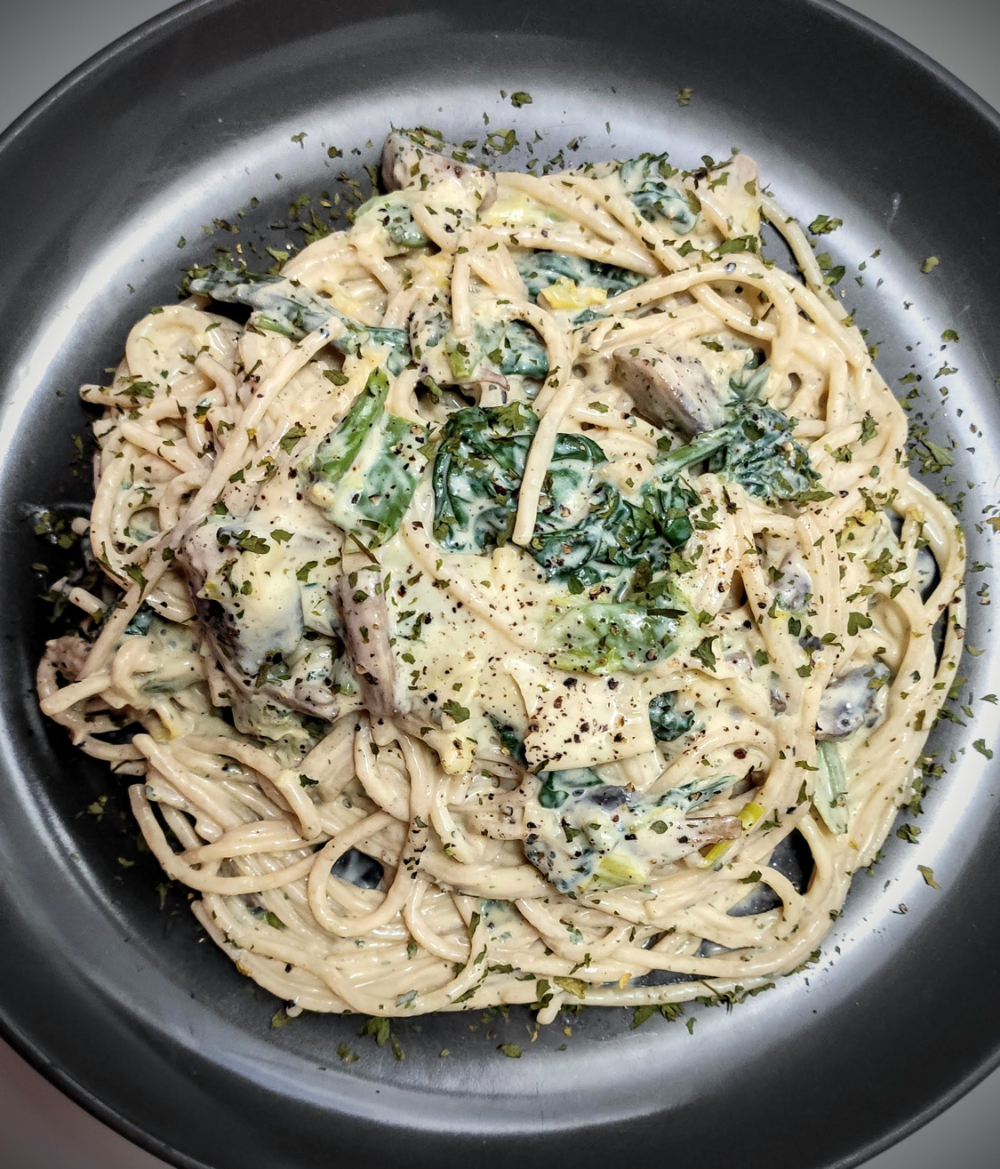 Surprisingly creamy for a recipe without any dairy. It super simple and comes together in no time. Other veggies could be added, like broccoli or green peas, for example. The sauce itself doesn't require any cooking. Bonus: the sauce provides lots of vitamin B12 from the nutritional yeast!
Ingredients
"Alfredo" and herb sauce
2 pitted dates
1 tbsp water
1 package silken tofu or soft tofu (about 500g)
1/4 cup soy milk
1 teaspoon garlic powder
1 teaspoon onion powder
1/4 teaspoon dried rosemary
1/4 teaspoon dried thyme
1/4 teaspoon dried oregano
1/4 teaspoon dried basil
4 tbsp vegan margarine
1/2 cup nutritional yeast
3/4 tsp salt, or to taste
Ground black pepper, to taste
2 tbsp fresh parsley, minced
1 tbsp fresh chives, minced
2 tsp fresh rosemary, minced
Pasta
450g dry brown rice pasta (any other healthy gluten-free pasta of your choice will do)
Sautéed veggies
2 tbsp canola oil, divided (to saute the vegetables)
300-450g mushrooms, sliced
1 medium onion, sliced
1 clove garlic, minced
350g spinach
1/2 tsp miso paste (optional)
Salt, to taste
Ground black pepper, to taste
Directions
Cook the dates and water in the microwave for 30 seconds.
Transfer to a high-speed blender and add all ingredients in the list for the sauce except the black pepper and fresh herbs. Blend until smooth, add black pepper to taste and add the fresh parsley, chives and rosemary.
Cook the pasta in a large saucepan, according to package instructions. Drain and set aside in the saucepan.
While the pasta is cooking, saute the mushrooms in a frying pan over medium heat with 1 tbsp of the oil, until golden. Remove from the pan and set aside.
Cook the onion in the frying pan with the remaining 1 tbsp of oil until soft and slightly caramelized, add a splash of water if needed.
Add garlic and cook for one minute.
Add back the mushrooms and add the spinach to the pan, cook until the spinach is wilted.
Transfer the vegetable mixture to the saucepan containing the pasta. Also pour in the sauce from the blender. Mix until the pasta is well coated.
Season with ground black pepper and salt and heat until warm enough to serve, if necessary.
Enjoy!