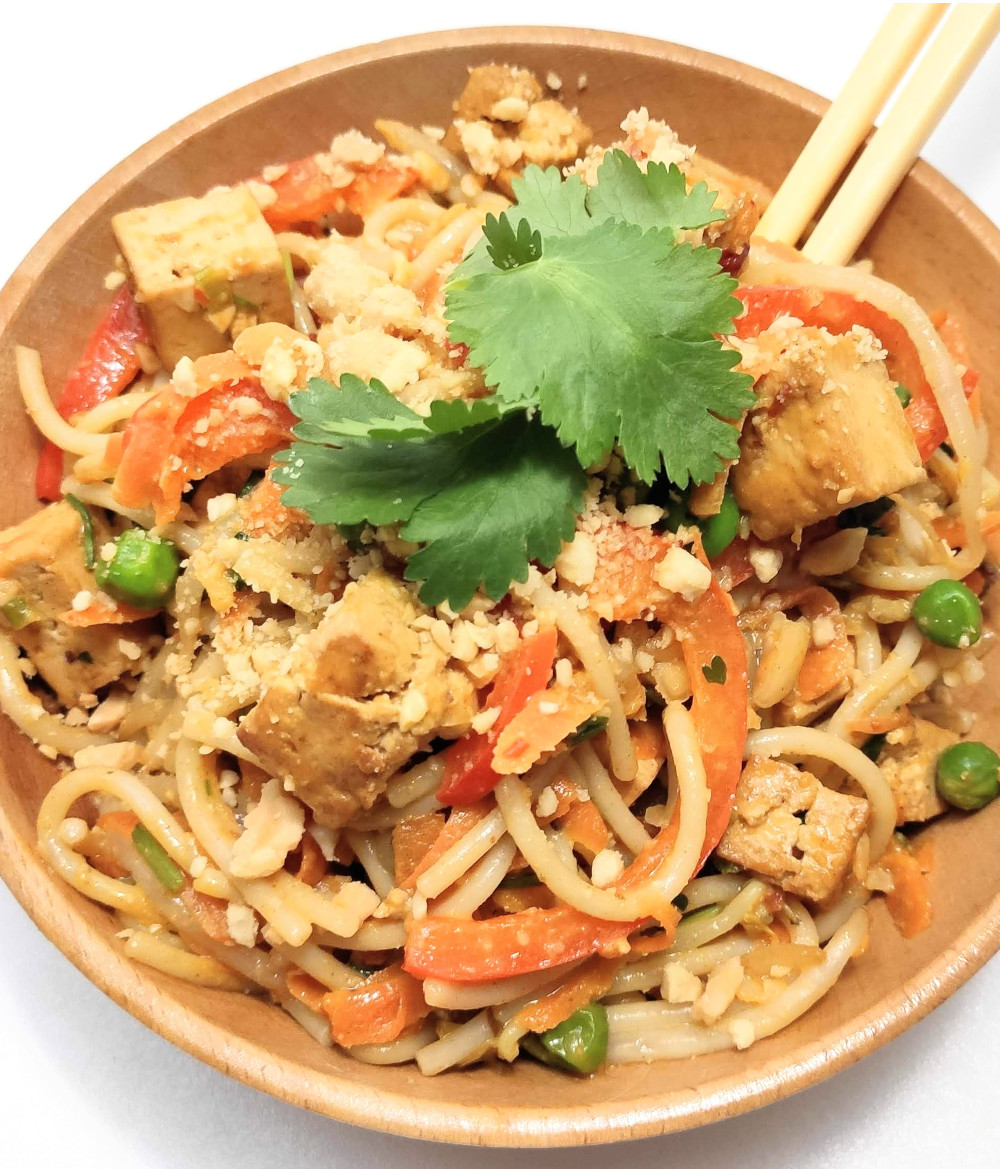 A pretty healthy version of a usually very unhealthy dish, without any sugar, less fat, and a lot more veggies. This version uses coconut aminos instead of soy sauce and brown rice pasta replace traditional white rice or wheat pasta. I use pasta made with 100% brown rice. The sauce is sweetened with dates, which are rich in fibre and have a low glycemic index. There is also almost as much veggies as there is pasta! What's more, the miso paste adds some probiotics to the dish! Still, this recipe contains a non-negligible amount of salt, so feel free to cut back the extra salt if this is a concern for you.
Makes about 6 portions. This recipe requires a pretty large mixing bowl and skillet. Cut the recipe in half if needed.
Ingredients
400g firm sprouted tofu/tempeh
6 tbsp coconut aminos, divided
1/4 tsp garlic powder
1/4 tsp onion powder
4 pitted dates
1 tbsp water
1/2 tsp dried ginger, or 1 tsp fresh grated ginger
1/2 tsp mustard powder
1 tbsp rice vinegar
1/2 tbsp lemon juice
1 tbsp sesame oil
1 tbsp sambal oelek
1 tsp - 1/2 tbsp miso paste (or substitute with the same amount of gluten-free soy sauce with no added sugar, or 1 1/2 tbsp coconut aminos)
2 tbsp natural peanut butter (100% peanuts)
1 tbsp canola oil
3 garlic cloves, minced
3 scallions, finely sliced
1/2 cup roasted peanuts, roughly chopped
2 cups shredded carrots
2 red bell peppers, thinly sliced
1 cup frozen green peas, thawed
200g bean sprouts
340g dry brown rice fettucinni or spaghetti (I use 100% brown rice pasta, but any healthy and gluten-free pasta of your choice will do)
20g fresh cilantro, roughly chopped
Ground black pepper, to taste
Salt (to taste, optional)
Directions
If using tofu, cut the tofu into slices 1cm (1/2 inch) thick. Lay on an absorbant towel and press down to absorb as much water as possible. Whether using tofu or tempeh, cut into small cubes, about 1cm (1/2 inch).
Transfer the tofu/tempeh to a bowl and add the 3 tbsp coconut aminos, garlic powder and onion powder. Mix and marinate in the refrigerator 1h or more.
In the meantime, in a small bowl, mix the dates and 1 tbsp water. Microwave for 30 seconds. Puree thoroughly with a fork to obtain a uniform paste.
Whisk together the date paste with the ginger, mustard powder, rice vinegar, lemon juice, sesame oil, sambal oelek, miso paste, peanut butter and 3 tbsp coconut aminos. Set aside.
When the tofu/tempeh is done marinating, cook the pasta according to package instructions in a large saucepan.
While the pasta is cooking, in a very large skillet, heat up the canola oil over medium heat. Add the marinated tofu/tempeh and sauté until browned. Remove from the skillet and set aside.
In the same skillet, add the garlic, scallions, peanuts (saving some peanuts for garnish if desired), carrots, red bell pepper, green peas. Sauté for about 3 minutes. Add the bean sprouts and sauté for another couple of minutes.
When the pasta is cooked, drain and add to a very large mixing bowl. Add the veggies, tofu and sauce sauce. Mix until everything is well coated with the sauce.
Season to taste with salt and pepper.
Mix in the fresh cilantro, saving some for garnish.
Serve warm topped with fresh cilantro and roasted peanuts, if desired.
Enjoy!