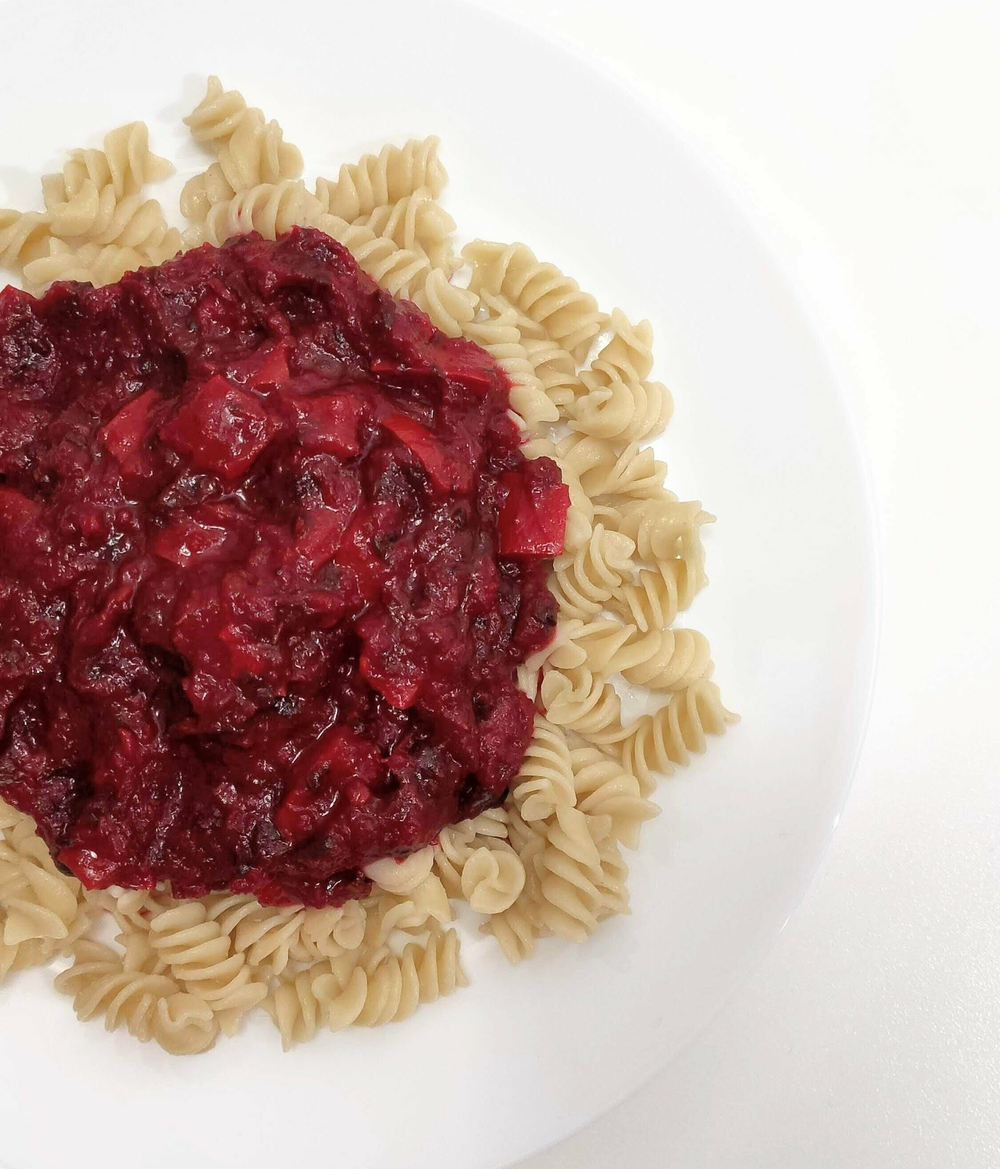 A pasta sauce made with nightshade vegetables (red bell peppers, tomatoes and eggplants), with intense colour and taste. The beets add natural sweetness and a deep red colour to the sauce and spinaches add some hidden leafy greens. Extra vitamin B12 from the nutritional yeast! Several additional vegetables could be added, to your liking, such as brocoli, squash, etc. This sauce freezes well, so I like doubling the recipe and making large quantities of it and freezing multiple servings for future quick diners. I like serving it over brown rice pasta, or plain brown rice.
Ingredients
3 pitted dates
1 tbsp water
4 beets, cubed
1/4 cup water
4 tbsp canola or avocado oil, divided
230g (approximately) mushrooms, sliced
1 small/medium eggplant, cubed
1 can crushed tomatoes (about 770 ml)
1 yellow onion, chopped
4 garlic cloves, minced
1 cup white wine
1 tsp dried oregano
1 tsp dried rosemary
1 tsp dried thyme
1 tsp dried basil or 1/4 cup fresh basil
1 tsp dried parsley
1/4 tsp red chili flakes or crushed cayenne pepper
2 bay leaves
1/2 tsp dry mustard
1 red bell pepper, diced
1 package spinach, about 4 cups, more or less
15 kalamata olives, chopped
Up to 1 cup water or vegetable broth (adjust to right consistency)
2 tbsp olive oil
4 tbsp nutritional yeast (optional)
Salt, to taste (about 1 1/2 tsp)
Ground black pepper, to taste
Directions
Cook the dates and water in the microwave in a small bowl for 30 seconds. Set aside.
Cook the beets in the microwave with the water for about 12-15 minutes or until cooked through.
In the meantime, cook the mushroom in a large frying pan with 1 tbsp of the oil, until browned. Set aside.
Cook the eggplant with 2 tbsp of the oil and a sprinkle of salt over medium heat, adding a splash of water if needed. Cook until soft and browned. Set aside.
Puree the beets in a blender along with the crushed tomatoes and dates. Set aside.
In a large saucepan, cook the onions over medium heat with the remaining 1 tbsp oil until translucent. Add the mushrooms, red wine, garlic and all spices and herbs and simmer until most of the liquid has evaporated.
Add the beet mixture and all remaining ingredients to the saucepan and simmer for 1hr 30min, stirring occasionally, making sure that the sauce doesn't burn at the bottom.
Remove the bay leaves.
Serve over brown rice pasta (or your favorite healthy gluten-free pasta), or brown rice.
Enjoy!