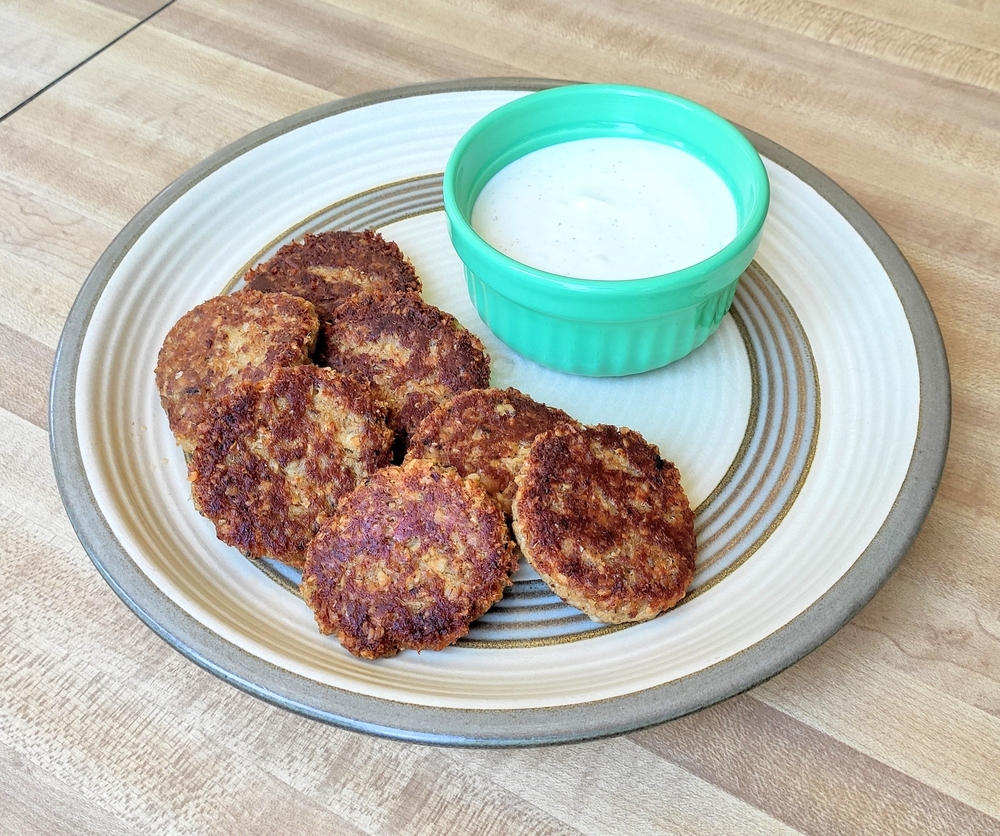 These salmon nuggets are made with quick oats instead of the usual breadcrumbs, making them gluten-free and super crispy! I use milk kefir as the liquid component for enhanced texture, taste and nutritional value, but any milk, buttermilk or milk alternative will do. The garlic-yogurt sauce is similar to tzatziki. I like to serve these along with steamed vegetables.
Ingredients
Nuggets
1 can salmon (200g), drained
1 can sardines (200g), drained
1 cup gluten-free quick oats, dry
1/2 cup milk kefir (or buttermilk) or 1/3 cup unsweetened non-dairy milk
1 flax egg (1 tbsp ground flax seeds + 3 tbsp water, soaked for 5-10 minutes)
4 tbsp oil suitable for cooking at high temperature (I use canola oil), divided
Salt, to taste
Ground black pepper, to taste
1/4 tsp paprika
1/4 tsp onion powder
1/4 tsp garlic powder
Sauce
1/2 cup plain greek yogurt
1 tbsp olive oil
1 clove garlic, minced
1 tsp lemon or lime juice
1/4 tsp salt
Ground black pepper, to taste
A dash of chipotle powder (optional)
Directions
Combine all ingredients except two tablespoons of the oil into a large bowl, mix and mash thoroughly with a fork until the mixture looks more uniform.
Refrigerate for at least 1 hour (up to overnight) to allow the ingredients to bind together.
Scoop the mixture and shape into small patties, about 1 cm thick and 5 cm across. There should be enough to make 24 nuggets.
Heat 1 tbsp oil on medium heat in a frying pan. Cook half of the patties and brown on each side for about 10 min. Flip gently to avoid breaking the patties. Remove from the pan, add the remaining 1 tbsp of oil and cook the other half of the patties.
In the meantime, make the sauce by combining all sauce ingredients in a small bowl and mixing with a fork.
Serve hot!
Enjoy!