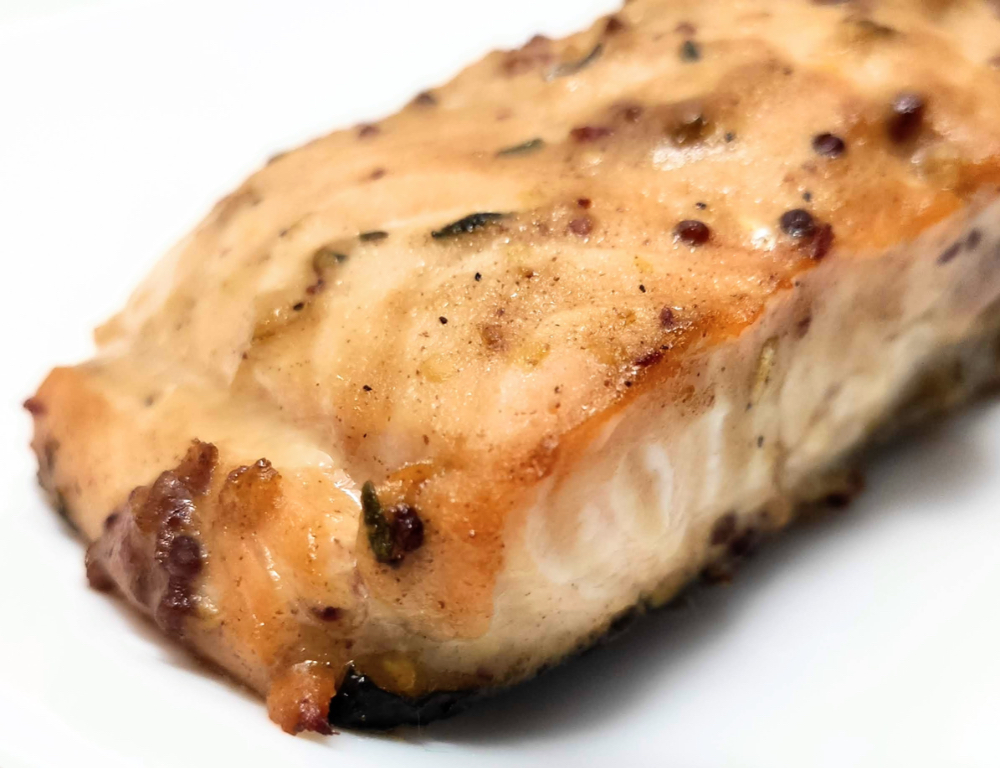 The marinade and glaze is sweetened with dates and bursts with flavour from Dijon mustard, lemon juice, and coconut aminos. Wonderful along with any side of vegetables and whole grains. For a vegan alternative, this marinade is also great with tempeh.
Ingredients
6 pitted dates
2 tbsp water
1 tbsp gluten-free soy sauce with no added sugar, or 2 tbsp coconut aminos
1 tbsp lemon juice
1 tbsp canola oil
1/2 tsp onion powder
1 clove garlic, minced
1 tbsp dijon mustard
1 tbsp whole grain dijon mustard
1/2 tsp dried thyme
Ground black pepper, to taste
4 salmon filets, with skin
Directions
Combine dates and water in a small microwavable bowl. Microwave for 30 seconds. Mash into a smooth paste with a fork.
Combine all marinade ingredients into the bowl, with the dates. Mix well.
Place the salmon filets and marinade into a resealable bag or an airtight container. Mix delicately to coat the salmon and refrigerate for at least 1h, up to 24h.
Preheat oven to 375˚F.
Place filets on a baking sheet lined with parchment paper. Bake for 10-15 minutes, or until it just reaches 145˚F.
Serve drizzled with the remaining sauce.
Enjoy!