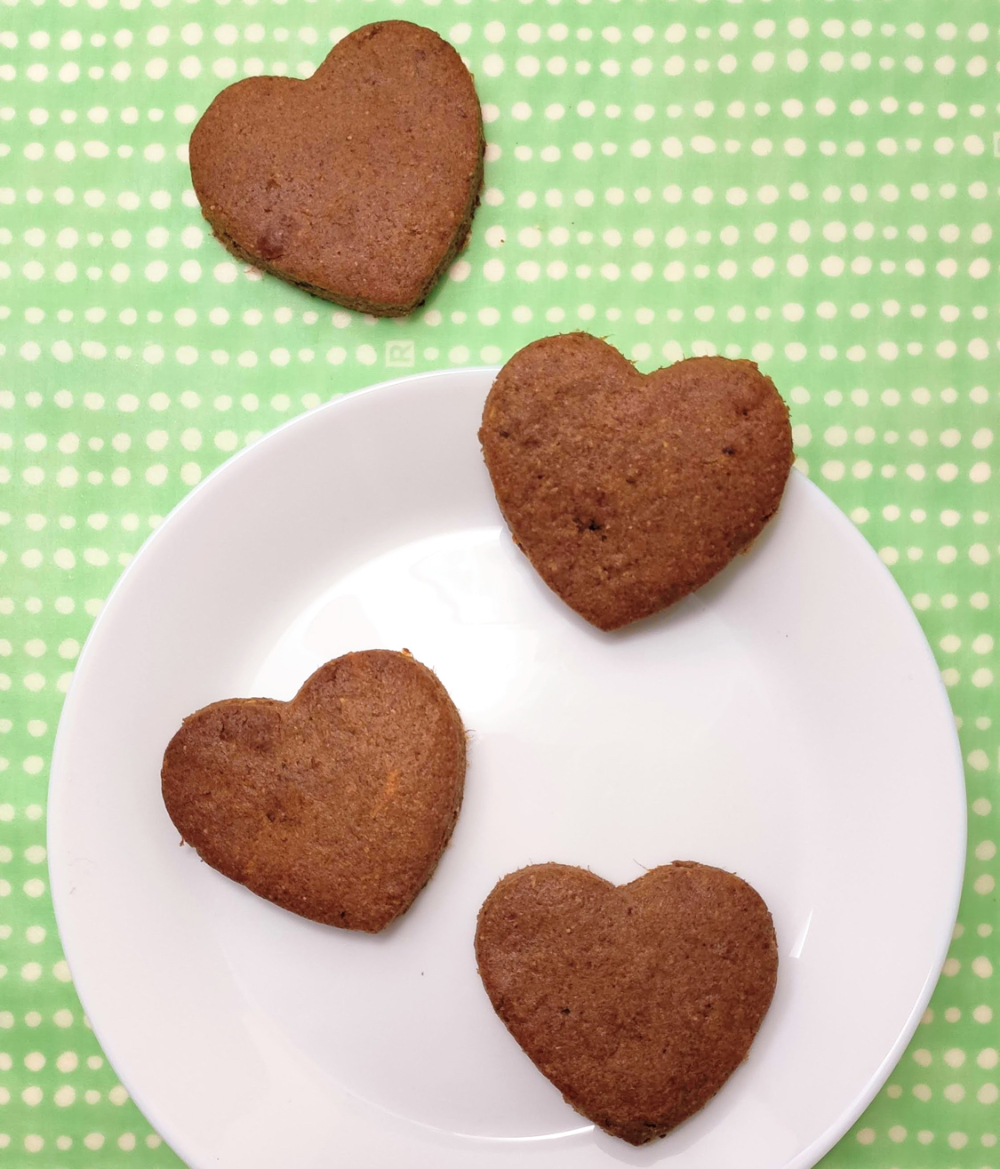 Even though it is quite simple, this in one of the recipes that I am most proud of. I find that the most difficult type of food to make healthy and truly satisfying is dessert. Especially since I want to avoid typical all purpose gluten-free flour blends, which are not particularly healthy. I have tried and modified multiple recipes of healthy, vegan, gluten-free and added-sugar-free cookies in the past, none of which I found to be particularly good. Until I created these! I first made a plain vanilla version and found that the texture and taste of these cookies resembled that of molasses cookies. With the added spices, the taste is complete! You could never tell that these are made without sugar, regular flour, or butter. On top of all that, these cookies keep their shape very well, so you can cut them into fun shapes for the holiday season like you would traditional gingerbread cookies! These cookies are packed with fibre, with around 12 % of the recommended daily about for just two cookies! Since they are made with a combination of grains, seeds and nuts (teff, almonds and oats), they also offer a good amount of "complete" protein. They are extremely filling, and I usually have enough with a couple of cookies as a snack.
You can also find a chocolate chips version of this recipe, if that's more your thing.
Ingredients
Makes about 24-30 cookies.
3/4 cup finely ground whole almonds (see note *)
1/2 cup gluten-free oats
1 cup teff seeds
1/2 tsp salt
1/2 tsp baking soda
1 1/2 tsp ground cinnamon
2 tsp ground ginger
1/4 tsp ground cloves
1/4 tsp nutmeg
1/4 tsp allspice
250g pitted dates
1/4 cup water
1/3 cup canola oil
1 tsp vanilla extract
Notes:
* You can grind the almonds briefly in a high-speed blender to get almond meal. This will give a very slightly granular texture to the cookies. If you prefer to have the smoothest texture possible, or prefer not to grind almonds yourself, 2/3 cups store-bought almond flour could probably be used instead of the ground almonds.
Directions
Blend teff seeds, oats, salt, baking soda and spices into a flour in a high-speed blender. Add ground almonds and process until reaching a flour consistency again.
Transfer into a large mixing bowl.
Microwave the dates with the water for 1 minute. Stir and microwave another 45 seconds. Transfer to a food processor or blender (with the water).
Add the oil and vanilla and blend into a smooth paste.
Combine all wet and dry ingredients into the large mixing bowl and mix thoroughly. Kneed with your hands until uniform and form into a ball.
Chill the dough for at least 2h in the refrigerator.
Preheat oven to 350°F.
Roll the dough to 1/4 inch (1/2 cm) thick and cut into shapes. The cookies will retain their shapes pretty well. Place the cookies onto a baking sheet lined with parchment paper.
Bake for 10 minutes.
Cool completely. I usually keep these cookies in the refrigerator in an airtight container and find that they are even better the next day.
Enjoy!
Enjoy!