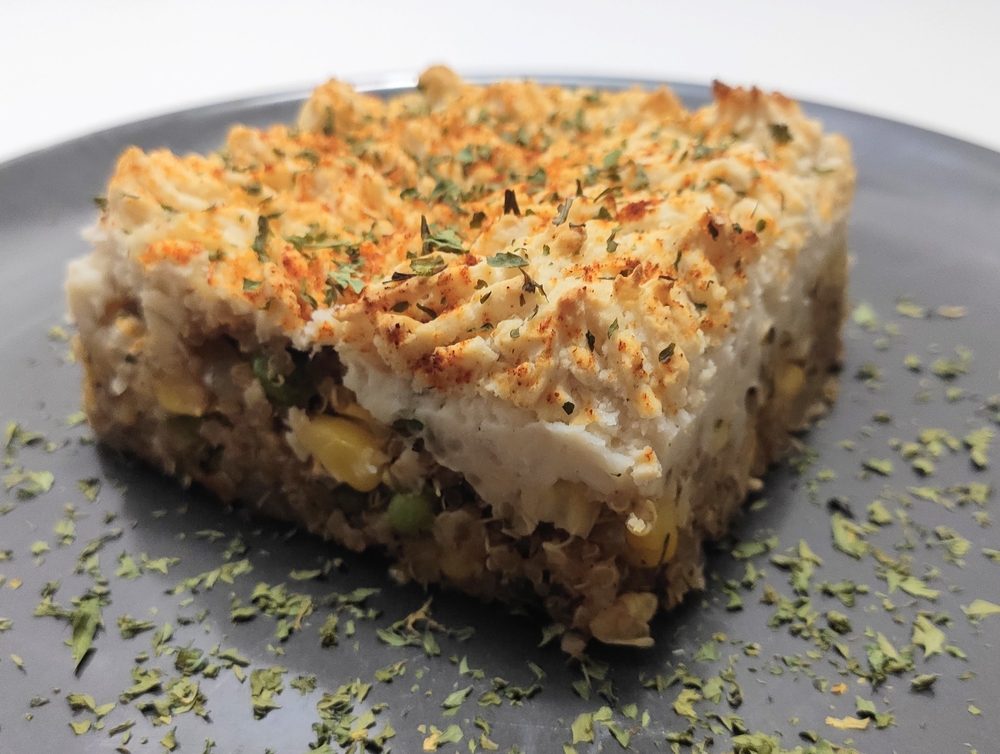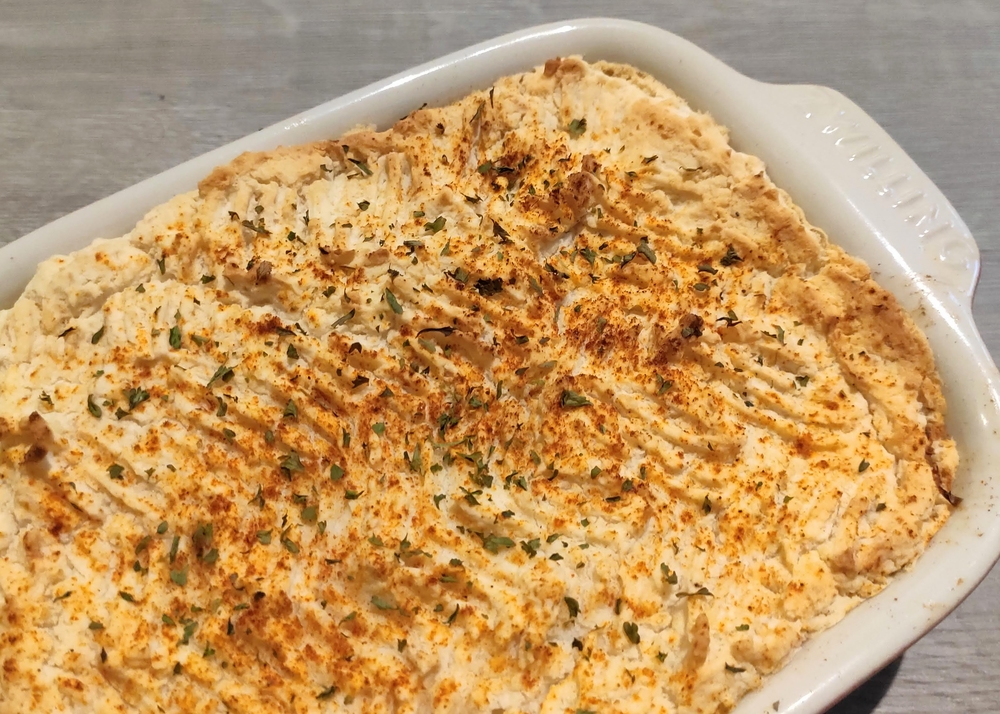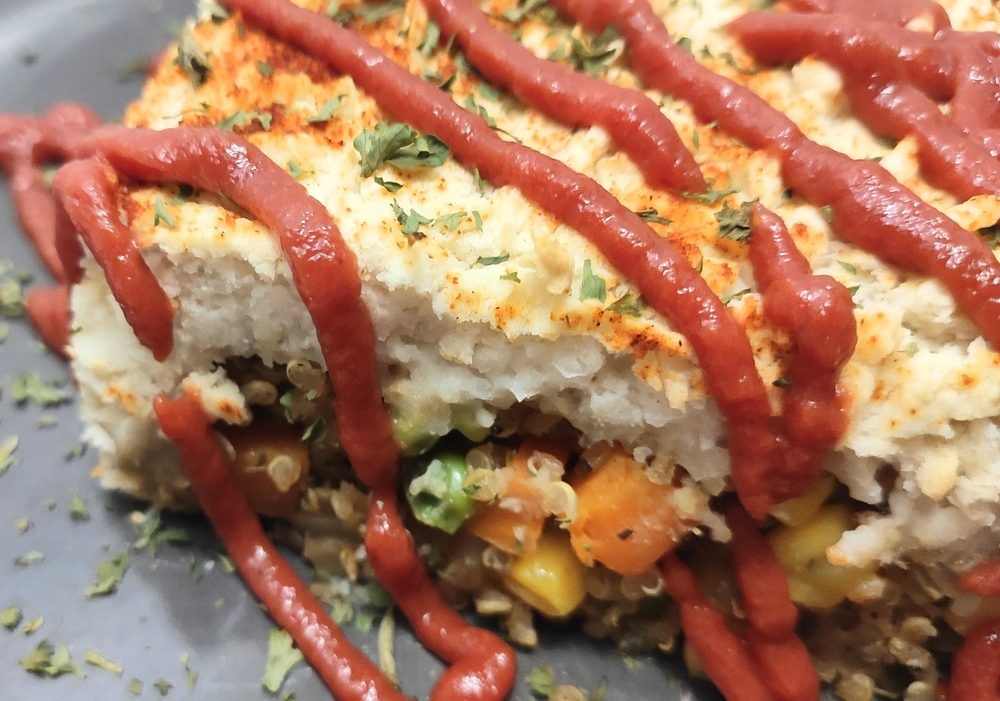 This nutritious "Shepherd's Pie" is made with white beans instead of potatoes and quinoa instead of ground meat. It is accompanied by a homemade ketchup sauce, which is sugar-free (contrary to the store-bought version).
Ingredients
Quinoa filling
2 cups cooked quinoa (about 1 cup dried quinoa cooked in 2 cups water according to package instructions, and chilled for at least 30 min)
2 pitted dates
1 tbsp water
2 tbsp canola oil
1 yellow onion, chopped
2 garlic cloves, minced
1 tsp dried oregano
1 tsp dried thyme
1 tsp dried rosemary
2 tsp dried parsley
1 tsp paprika powder
1/2 tsp garlic powder
1/8-1/4 tsp chipotle powder
2 tsp miso paste (or substitute with 2 tsp gluten-free soy sauce with no added sugar, or 2 tbsp coconut aminos)
2 cups frozen veggies (carrots, corn and green peas), thawed
Salt and ground black pepper, to taste
Mashed white beans
4 cups white kidney beans, cooked or canned (2x 540 ml cans, drained and rinsed)
4 tbsp canola oil (or olive oil, or a healthy vegan margarine)
1 garlic clove, minced
1/2 tsp garlic powder
1/2 tsp onion powder
1 1/2 tbsp lemon juice
1/3 cup unsweetened soy milk
3/4 tsp salt (or to taste)
Ground black pepper, to taste
Paprika powder (for topping)
Dried parsley (optional, for topping)
Homemade sugar-free ketchup (OPTIONAL)
1 can tomato paste
1 tbsp white vinegar
1/4 tsp salt
5 drop liquid stevia extract
Directions
In a small microwavable bowl, combine dates and water. Microwave for 30 seconds. Mash thoroughly with a fork to obtain a paste. Set aside.
In a large skillet, heat up the oil at medium-low heat. Add the onion and cook until translucent and slightly caramelized.
Add a splash of water, then add the garlic, all spices, herbs, date paste and miso paste. stir and cook for about 1 minute. Lower the heat if necessary.
Add quinoa, stir and cook for 5 minutes.
Add veggies, mix in and remove from heat. Add ground black pepper to taste.
Preheat oven to 400°F
Transfer the quinoa and veggie mix to a baking dish and press down a bit to even out the layer.
Mash all the ingredients for the mashed bean layer together, except for the paprika. This can be done either by hand or in a blender or food processor. Mash until a smooth consistency is reached. Taste and add salt and/or pepper, to taste.
Spread the bean mash on top of the quinoa and veggie mix, and make some patterns with a fork to create small peaks that will become crispy. Sprinkle with paprika powder and dried parsley.
Bake in the oven until browed, about 30 minutes. If it is not browned and crispy, set to broil until done.
Cool for 15 minutes before serving.
In the meantime, if making the ketchup, mix all ketchup ingredients in a small bowl. Pour into a squeeze bottle if desired.
Serve topped with homemade ketchup (optional). If you do make it, start with just a little because it tastes quite strong.
Enjoy!